Supercolour - Coloured Roofing Sheets
Roofing and aesthetics go hand in hand with Everest Supercolour. Made from the finest quality cement, our coloured fibre cement roofing sheets offer all the advantages of a conventional fibre cement roofing sheet, while adding a touch of colour, water repellant and anti-algal, fungal features to your roofs.
Available in 4 vibrant shades, our pigments are mixed with unique additives that help them bind with cement, thus preventing peeling and ensuring long-lasting colour. land water repellent features.
Advantages of SuperColoured Roofing Sheets
Not only are our coloured cement roofing sheets an aesthetically pleasing option for your roofs, they also boast a range of practical benefits.



Anti-algal
Anti-fungal

Repels water

Colorful Shades

Fire Resistant

Non-corrosive

Vermin-resistant

Strength Consistency

Economical

High Strength

Matures with Age

Low Thermal Conductivity

Better Sound Absorption
Applications of Coloured Cement Roofing Sheets
Coloured cement roofing sheets have diverse applications across industries, from residential to commercial,
in addition to the various practical benefits, they add a pop of colour to any project.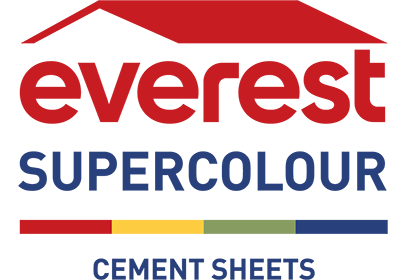 Bus Stands & Railway Stations


Technical Details of Supercolour Coloured Roofing Sheets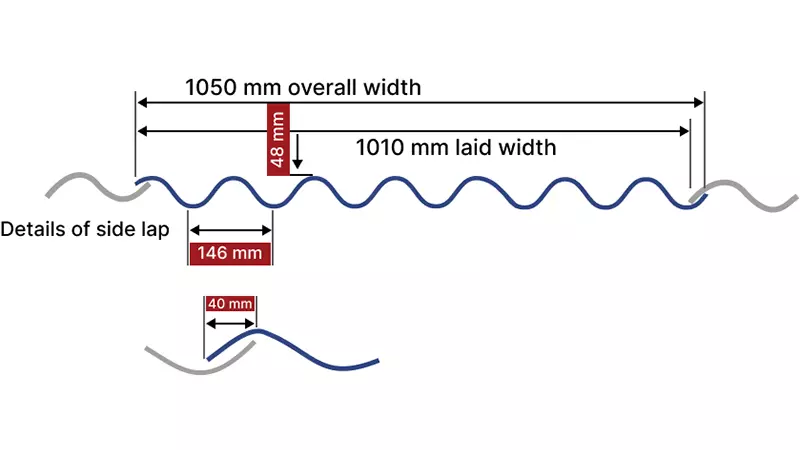 1.50, 1.75, 2.0, 2.25, 2.75,3.0, 3.6 meters
Standard Length Manufactured
91%
Covering Efficiency
(allowing end and side laps) 3.0 M long Sheets
2.88 Sq. M.
Actual Cover of Sheet laid
(allowing end and side laps) 3.0 M long Sheets
10.77 Sq. M.
10Sq. M.of laying area requires sheeting
(allowing end and side laps) With sheet of 3.0 M length
1.4 M for 6 mm
Maximum purlin spacing for roofing
0.3 M for 6 mm
Maximum overhang at eaves
1.7 M for 6 mm
Maximum rail spacing for side cladding
150 mm minimum
Horizontal lap at purlin
Red, Yellow, Green, Blue
Colour Available

Supercolour Roofing Projects
FAQ'S
Is the paint on coloured roofing sheets durable?
The colour coating on Everest Supercolur roofing sheets . The colour will slowly fade away over the years, however the sheets will continue to work as intended.
What are the premium benefits of Everest Supercolour?
Everest Supercolour roofing sheets come in a variety of colours (red, yellow, blue & green) along with anti-fungal and water-repellent properites amking it a roof of choice for customers.
How does Supercolour roofing sheet repel water?
The special chemical added to the paint on Everest Supercolour sheets is hydrophobic, i.e., it repels water the same way an oil coated surface will repel water. This effect is shown in the lotus effect water dropper test that we do. Thus, the water does not stay on the sheet for long nor get absorbed in the sheet.
How do Supercolour roofing sheets prevent the growth of algae/fungi?
The paint on these coloured cement roofing sheets consists of a special biocide, i.e., a chemical that kills fungi and algae. This is coupled with a water-repellent chemical, which blocks the pores of the cement sheet and doesn't allow algae or fungi to root itself in the pores of the sheet. Thus, the water repellence property, combined with the special biocide used, reduces the likelihood of any algal/fungal growth.
Will the coloured roofing sheets be available in my area?
Everest has a vast network of dealers across India to offer roofing sheets in various locations. For more inquiries, you can call our toll-free number: 1800-4191-991.
I want a Supercolour cement roofing sheet dealership in my area. When and how can I start?
Everest has a vast network of dealers across India who offer coloured fibre cement roofing sheets in various locations. For inquiries on how to start your own dealership, you can call our toll-free number: 1800-4191-991.
What's the price of Everest Supercolour roofing sheet?
For pricing related enquiries please fill the enquiry form and our sales representative will reach out to you within 24 hours.